Last Updated: January 2021
Philips
Norelco Shaver 3800
Philips
Norelco Shaver 9300
Philips
Shaver 9000 Prestige
Prices as off 2021-12-06 at 22:10 / Contains affiliate links.
How Did We Determine the Best Rotary Shaver?
The Best Rotary Shavers
If you spend any time looking at electric shavers you will quickly notice that there are two competing shaving technologies. Rotary shavers, mostly made by Philips Norelco, offer a number of advantages over their foil shaver competitors. They contour better to the face while shaving, are much quieter in operation, and are slightly better at cutting coarser beards or longer hairs.
Even with these advantages we recommend that most people select a foil shaver from Braun or Panasonic over a rotary shaver. Most people find foil shavers to provide a closer and more comfortable shave than rotary shavers.
The rotary shavers we reviewed and selected can provide a great shave, but you can check out our article on the best electric shavers if you are not limited to rotary shavers only. 
We also have an article on the differences between rotary and foil shavers if you are interested in learning more about the two shaving technologies.
Rotary Shaver Advantages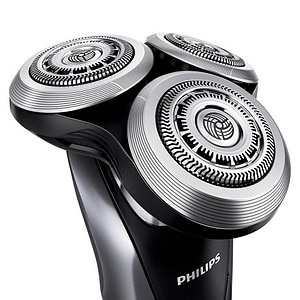 If you shave every other day, or less frequently, a rotary shaver will provide a more comfortable shave. We have found that rotary shavers perform much better with 2 or 3 day stubble that most foil shavers. The exception for foil shavers is the Braun Series 9, which provided an excellent shave even with a 3 day stubble.
We have found rotary shavers can contour better around the face and neck better than all foil shavers. This is due to each shaving element being able to move independently vs connected on foil shavers.
Finally, the noise produced by rotary shavers is considerably less than foil shavers. Foil shavers rely on fast spinning
Our Picks
All of our choices for top picks come from the Philips Norelco range of shavers. While Remington also produces a number of shavers, they don't beat the performance or price of the Norelco models we chose for our picks.
Philips Norelco Shaver 9300
The Philips Norelco Shaver 9300 provides the best balance between price, shaving performance, and features. Besides our upgrade pick no rotary shaver performed nearly as well.
Prices as off 2021-12-06 at 22:10 / Contains affiliate links.
Flexible shaving head works well around neck and jaw line
Well build clean and charge station
Easy to use attachable trimmer
Not as comfortable as foil shavers
Closeness of shave doesn't compare to Panasonic or Braun foil shavers
Why we chose it
Both the Philips Norelco Shaver 9300 and our upgrade pick, the Philips Norelco Shaver 9000 Prestige, come from the same model line. The Shaver 9000 is Philips top of the line model that includes their most advanced features and shaving performance.
While no rotary shaver is able to offer as close of shave as our favorite foil shavers, the Norelco Shaver 9300 provides the closest shave of any rotary shaver we have reviewed. The three rotating shaving heads are each capable of moving in 8 directions.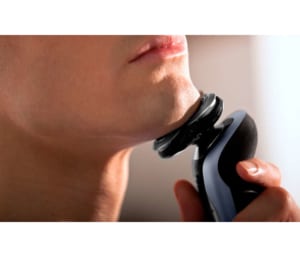 We have found that the Shaver 9300 excels around the neck and jawline area compared to cheaper rotary or foil shavers. It can be difficult to shave the area between the jaw line and the neck with most shavers, but the amount of flexibility provided by the Shaver 9000 shaving head allowed us to use less passes than most electric shavers.
If you tend to let your stubble grow multiple days before shaving you will appreciate the comfort the Shaver 9300 can provide. We found that a 3 day beard was able to be shaved with the Shaver 9300 without much discomfort. We would still recommend shaving every day but it is nice to know it won't be painful if you ship a day.
The Shaver 9300 also includes a clean and charge station which can make it easier to get a clean and comfortable shave. While rotary shavers are easier to clean manually than foil shavers, unless you are cleaning and lubricating them after every shave the performance will eventually degrade.
If you are someone who prefers to not have to worry about taking apart the shaving head to clean and lubricate it, the clean and charge station is going to be a worthwhile investment.
Other accessories that are included with the Shaver 9300 include a travel case and trimmer attachment that can be used to clean up around the neck and sideburns area. Battery life is approximately 50 minutes on a full charge and a quick charge option is available.
Philips Norelco Shaver 9700
Philips also offers the Norelco Shaver 9700 which is the same shaver with some slight changes to the accessories. The 9700 model includes a cleansing brush attachment, upgraded battery display, and an indicator on the clean and charge station that shows current status.
We don't believe the upgraded accessories justify the price difference over the Norelco Shaver 9300.
Click here to read our full Philips Norelco Series 9000 Review
Philips Norelco Shaver 9000 Prestige
Philips took what made the Shaver 9300 great and upgraded the shaving head to deliver an even better shave.
Prices as off 2021-12-06 at 22:10 / Contains affiliate links.
Excellent Shaving Performance
Comfortable even with longer stubble
Trimmer & Travel Case
No cleaning station
Price is high compared to Braun Series 9, the closest competitor
Why we chose it
In 2018 Philips released an upgrade to their Shaver 9000 model line that included several models with Prestige attached to them. While the body is the same, the materials have been upgraded to a beautiful brushed aluminum finish. As far as attractiveness, the Prestige models are some of the best designed shavers on the market today.
There was one big question when Philips released an upgraded version of a model still on the market. Would the Norelco Shaver Prestige models deliver any increased shaving performance?
While the design of the Prestige shaver looks nearly identical to the Shaver 9300 or Shaver 9700 model, a number of things have been upgraded.
First, the Prestige models include an upgraded shaving head which is much more comfortable than even those on the Norelco 9300. The shaving heads have been redesigned inside and out.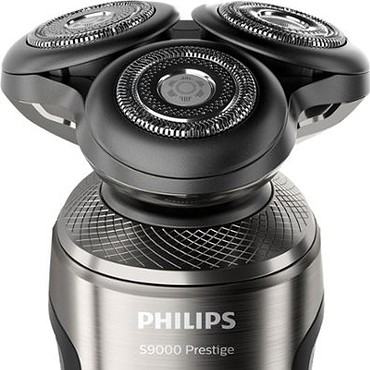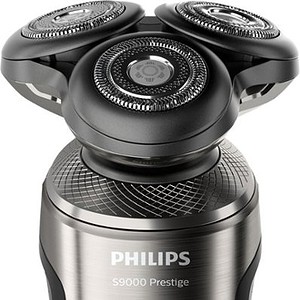 On the outside an included anti-friction coating allows them to glide more smoothly and reduce irritation. Inside the shaving head now uses a different cutting design that reduces the feeling of pull on the hairs before cutting them. Both of these changes combine for a shave that is more comfortable than any rotary shaver has delivered before.
While the Norelco Shaver 9300 can handle beards of up to 2-3 days, we found it was more comfortable to shave longer stubble with the Shaver 9000 Prestige.
The Norelco Shaver 9000 Prestige includes a travel case and beard trimmer attachment. We think the most notable thing about the Norelco Shaver 9000 Prestige is what it does not include.
Despite this model being the most expensive in the Norelco range, a clean and charge station is not included. This feels like an odd omission considering both competitors in the price range, the Braun Series 9 and Panasonic Arc5, both include them for models at the same price.
While you can clean the shaver manually, it feels like a task that shouldn't be necessary for the best model Philips makes. Battery life is nearly identical to the Norelco 9300 model with approximately 50 minutes on a full charge and a quick charge option is available.
So why did we still choose the Philips Norelco Shaver 9000 Prestige as our upgrade pick?
Simply put, the Shaver 9000 Prestige delivers the closest and most comfortable shave of any rotary shaver we have reviewed. If you know you are looking for rotary shaver and want the best on the market, this is your choice.
Philips Norelco Shaver 3800
If you are looking to spend under $100, the Norelco Shaver 3800 can deliver a good shave if you are willing to deal with some limitations.
Prices as off 2021-12-06 at 22:10 / Contains affiliate links.
Good shaving performance for the price point
Easy to clean manually
Wet or Dry shaving capable
Lack of flexibility in shaving head makes shaving neck difficult
Best for thin beards or shaving every day, struggles with longer stubble
Not as comfortable as our other rotary shaver picks
Why we chose it
If the Shaver 9000 is out of your price range, the Philips Norelco Shaver 3800 offers many of the traditional rotary shaver advantages with a lower price. The Norelco 3800 is an update to our old budget choice, the Norelco Shaver 4500. The design has been updated and it feels more premium. The well designed LED battery indicator and charging stand stand out among other shavers in this price range.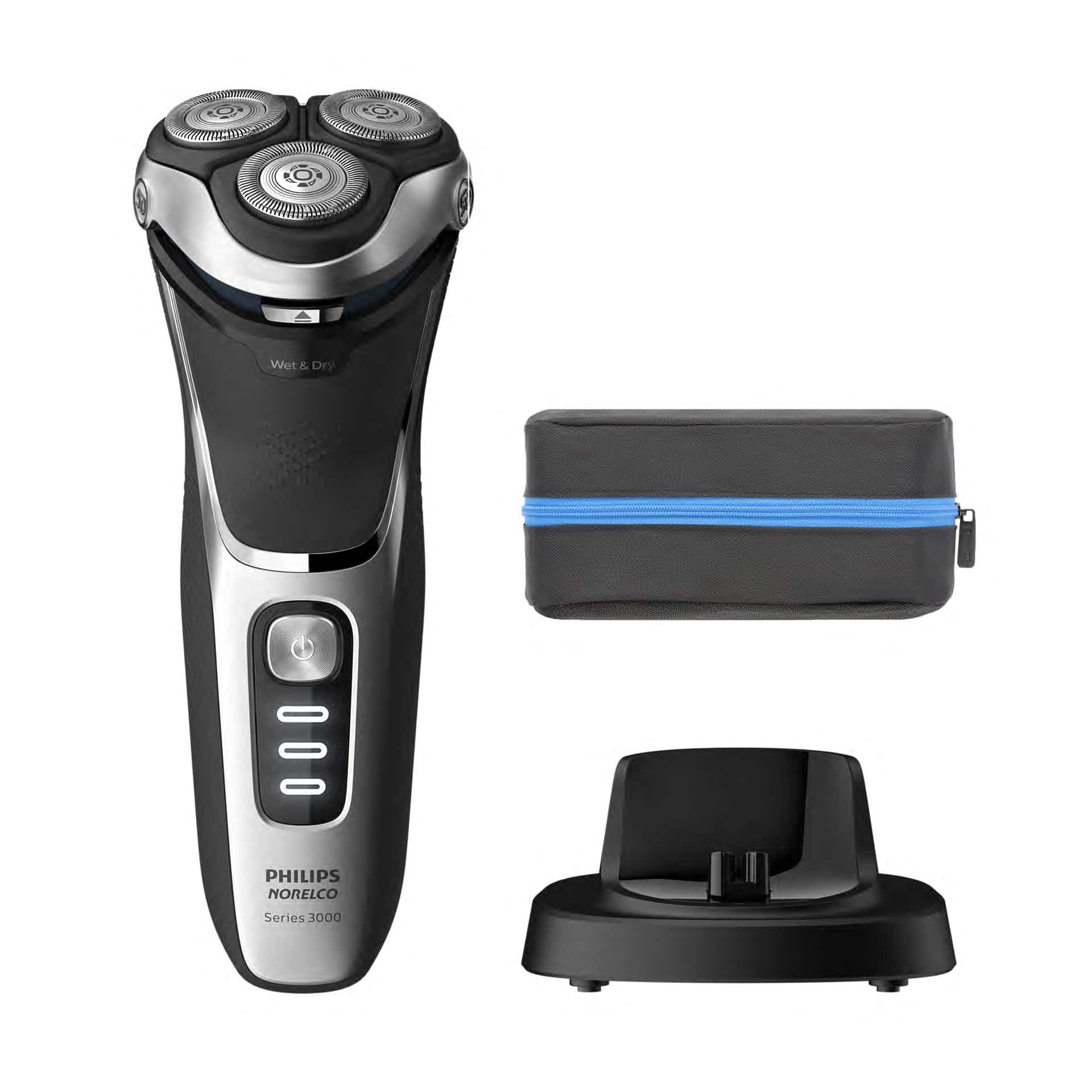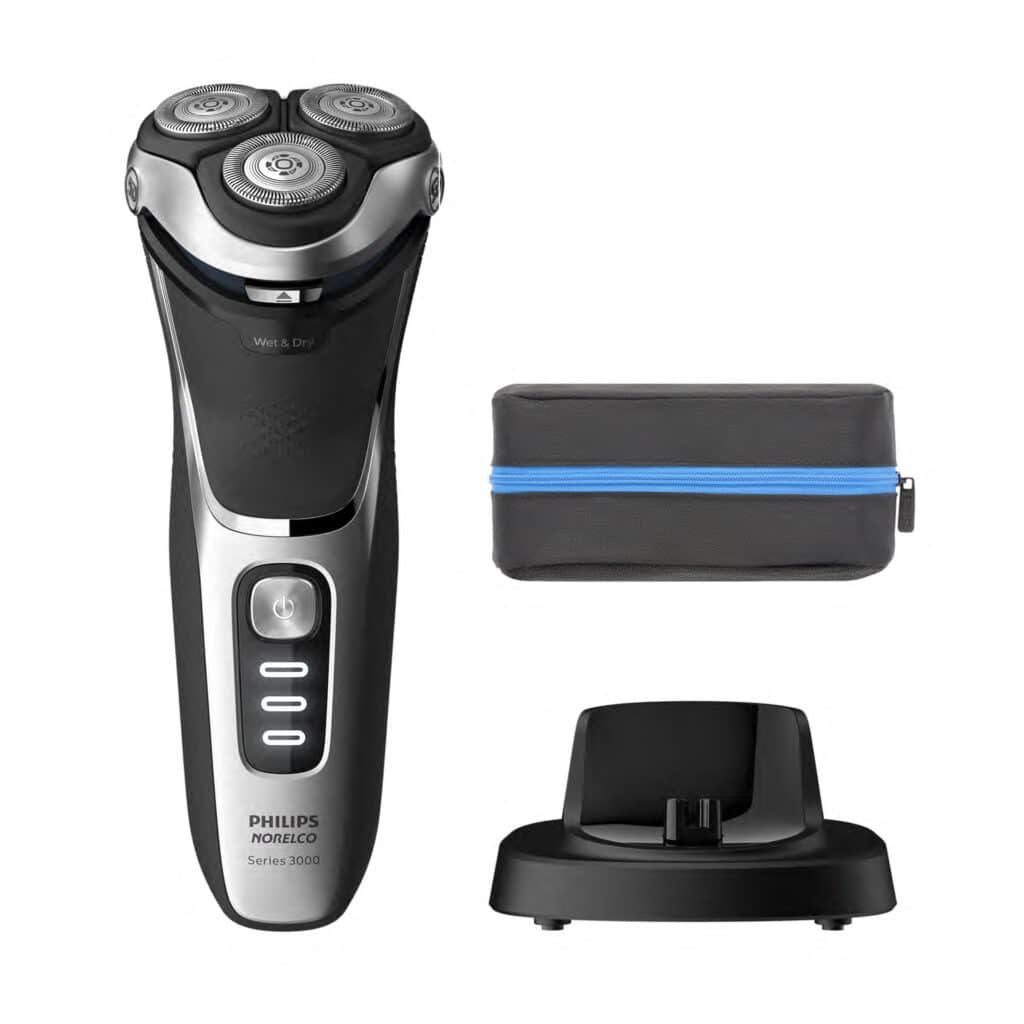 The Philips Norelco Shaver 3800 is the best rotary shaver we have reviewed under $100 dollars and we would recommend it over any of the cheaper models that are available. 
The Norelco 3800's shaving heads only move in 5 directions compared to the 8 directions that the 9000 series shaving heads can flex in.
The reduction in the amount of movement each shaving head can make requires you to pass over the same area multiple times with slightly different angles. Some people may find that this may result in more skin irritation but the Norelco 3800 can be used with shaving cream which can result in a more comfortable shave.
Compared to the Shaver 9000 you may notice more tugging and pulling as you are using the shaver. We have found that shaving every day can help reduce this feeling and improve the comfort. We don't recommend the Norelco 3800 if you tend to shave every couple days. 
The Norelco Shaver 3800 is able to be used in both wet and dry conditions and the battery life is right around 50 minutes. Like the other Norelco shavers a 5 minute quick charge is available to provide enough power for 1 shave. A charging stand is included with this model to conveniently charge the shaver in between uses.
Unlike the more expensive models the Norelco Shaver 3800 has a pop-up trimmer which we prefer to the attachments in the higher end models. No cleaning station is provided so we recommend rinsing the shaver after every shave and lubricating every month or so.
The Norelco 3800 punches above its weight in appearance and included accessories. If you have a thin beard or typically shave every day and are looking to spend under $100 than the Norelco Shaver 3800 is what you are looking for.
If you are looking to save additional money, the Philips Norelco Shaver 3500 offers all of the same features as the 3800 without the charging stand. Usually the price difference is minimal and we recommend sticking with the Shaver 3800.