As an affiliate we may earn a commission when you buy using links on our website.
Are you considering electric shaving but not sure whether a foil shaver or rotary shaver is best for you? Perhaps you aren't even sure what the major differences between the two technologies are?
Below is a complete breakdown of foil vs rotary shavers so that you can decide which is right for you. In addition, we included our favorite picks to help you choose the best model of each technology.
At a glance…
Do you want to know which model and technology to choose without learning more about how they work? Here are our favorites.
Most electric shavers contain similar features, both in terms of design and function, regardless of shaving technology. There is almost always a trimmer included to help you better shave the mustache and sideburn areas, and many models include automatic cleaning stations to keep your shavers clean between uses. 
Related: The Best Electric Shavers
Overview
Foil Shavers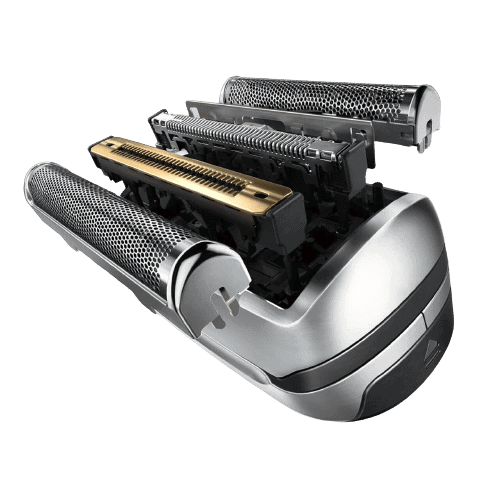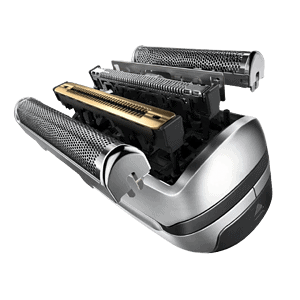 With foil shavers, a thin, perforated metal sheet covers the cutting blades and protects your skin. Underneath this protective cover are blades that move rapidly from side to side to cut facial hair as it passes through.
Braun and Panasonic provide additional cutting elements to their products as you move up the product line, resulting in a more effective, one-pass cut. We have found that the most effective foil shavers have between four and five cutting elements that each catch hair of varying lengths.
When using a foil shaver, it is important to tilt the shaver at a 90-degree angle and make straight passes up and down or across your face. With this technique, you can ensure that the cutting elements behind the foils are able to capture all the hairs for even cutting.
Advantages of Foil Shavers
Faster Shave
Top-notch foil shavers, such as the best Braun and Panasonic shavers, use multiple cutting elements and different types of foils to cut more hair in one pass. These different foil types are each designed to optimally capture hair of varying lengths and thicknesses in one pass.
Better for Sensitive Skin
People with sensitive skin should strongly consider using a foil shaver. Because foil shavers are better at cutting more hair in one pass they are gentler on the skin than rotary shavers. Fewer passes over the same area usually results in less razor burn and a more comfortable shave.
Closer Shave
We have found that foil shavers are able to get a closer shave than even the best rotary shavers. There is typically less distance between the oscillating cutting elements and the skin on foil shavers than on rotary shavers which rely on spinning blades.
Easier to Clean
Our experience has been that manual cleaning foil shavers is quicker and easier than most rotary shavers. Foil shaving heads have fewer places for hair to get caught in, and rinsing under the sink usually removes most hair after shaving.
Rotary Shavers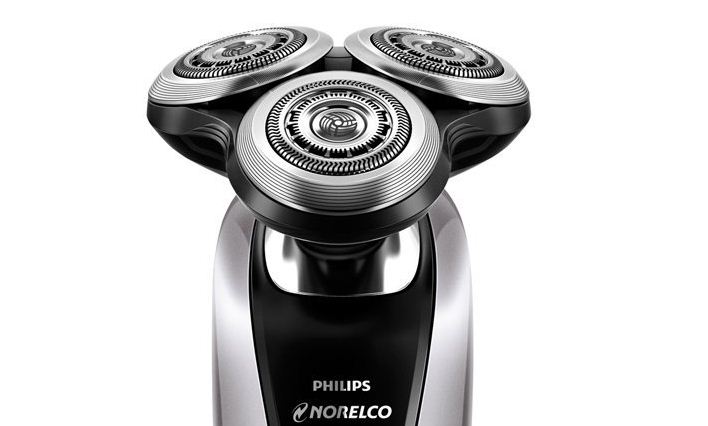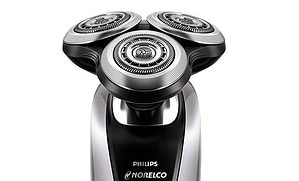 In rotary shavers, spinning blades are used inside three shaving elements. In comparison to foil shavers, most rotary shaving heads allow the cutting elements to move more freely. This additional flexibility helps rotary shavers better contour around the neck and jawline.
Most of the difference between cheaper and more expensive Philips Norelco models is in the speed and range of motion of the shaving heads. More flexibility and faster speed typically allow you to shave quicker and with less passes, reducing shaving irritation.
Shaving with a rotary shaver requires a different technique than shaving with a foil shaver. Using moderate pressure and circular motions around your face will ensure the best performance and shaving comfort.
Advantages of Rotary Shavers
Better Contouring
The jawline and neck areas are some of the most difficult areas to shave. Rotary shaving heads are much better at contouring around the jaw and neck areas.
Better for Longer/Coarser Hair
Rotary shavers typically perform better with stubble that is either thicker or longer than normal. Most people should shave every day or two for best results, but if you typically let some stubble grow before shaving, a rotary shaver will be more comfortable.
Quieter
Rotating shavers have the undisputed advantage of being more quiet compared to foil shavers. Consider a rotary shaver if you cannot tolerate a loud buzzing appliance against your face.
Related: The Best Rotary Shavers
Foil vs Rotary Shavers
So which shaving technology is better? Should you choose a foil or a rotary shaver?
For most people we would recommend a foil shaver. Two of the most common complaints with electric shavers are they do not shave close enough and that they are not comfortable to use.
As far as we are concerned, good foil shavers, like the Braun Series 7 or Series 9, offer the best electric shaving experience on the market today. Although they do not shave razor close, they do shave much closer than rotary shavers in the same price range, and they are also more comfortable.
Rotary shavers are best suited for people who have previously used a foil shaver and would prefer a more flexible shaving head, or have thicker beards. The quieter operation of rotary shavers is usually not worth the tradeoff in performance. In addition, rotary shavers are more difficult to clean manually than foil shavers.
Related: The Best Electric Shavers